Prepare well for your cruise aboard the Bella Desgagnés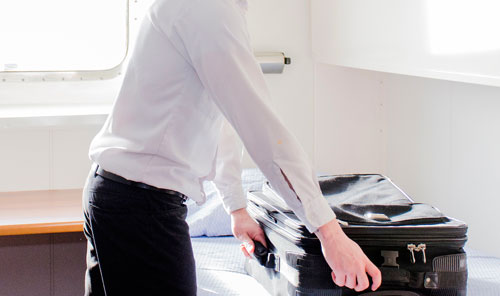 What to bring on your trip
Each passenger is entitled to a maximum of 20kg of personal effects.

Excess will be charged as excess baggage.


Baggage must be of a size allowing it to be stored easily in the cabins or in the lockers ($) provided for this purpose or under the seat of the passenger.

It is forbidden to bring alcoholic beverages or perishable food, with the exception of items considered essential for young children.

Goods other than personal effects including seafood and game must be transported according to our procedure for transporting goods.
Camping gear is not accepted as personal baggage and must be checked in advance according to our procedures for transporting goods, with the exception of passengers traveling to Anticosti Island. In this case, customers can benefit from a fixed rate when booking the transport of the vehicle.
In order to be able to explore a little further, it is possible to bring your bike (additional cost) which will be placed in a container and be available at stopovers (daytime only).
Watercraft such as canoes and kayaks are not accepted as personal baggage and must be checked in accordance with our cargo procedures.
The Bella Desgagnés has a kennel to transport your pet.

Animals are not allowed in the passenger sections of the ship (interior and exterior) but you may bring them along during stopovers with the exception of Anticosti Island (including the Port-Menier wharf).

You are responsible for feeding your pet and cleaning the cage during your stay.